This isn't Jackie Venson's first time in Idaho. She's played some local shows, Treefort, and Sawtooth Valley Gathering in Stanley. This time, she came to town for Alive After 5. She's also playing DJ set tonight at Hap Hap Lounger, under her DJ name "Jackie the Robot."
The techs and I loved that before the session, she was "ripping on billionaires," and talking about the problems in the world. Jackie Venson is the youngest of 9 siblings. Her dad is 80, and has played in a band called "Blue Mist," where he was the only sighted person. The drummer from her dad's band often tours with Jackie.
Jackie had done many radio sessions, but this was her first one ever with an audience! Instead of amps and mics, we hooked up to her sampler and modeler. I went into complete nerd mode chatting with her after the session, I told her it was great she didn't have to use a laptop. She rolled her eyes and said one time her laptop actually went to sleep during a live set. She uses Pioneer DJ and creates her own stems, then loads them into the pads to play live. I have struggled for years to learn more of the Ableton DAW, she joked that she just uses Rock Band to do the final work and keep things simple. I said I'd wanted to do more things like that and people encourage me to DJ, but I just can't listen to hours of house music or EDM. She likes to mix jams of cover songs, and that's what you'll get tonight at Hap Hap Lounge. We talked of our shared love for mashups, and she mentioned the latest one I'd seen and loved on TikTok from DJ Hamster Dance, featuring an Evanescance "Bring Me to Life" mashup with Nelly's "Hot in Here." It's some kind of magic, and it really works!
Seriously. That is good stuff!
A couple of months ago, Jackie got to play on the CMT awards show stage with Alanis Morrisette. She joked that all the people who get sweaty and jam on Wednesday nights, are now standing next to Carrie Underwood! She also got the chance to shred in front of fire, and loves that she had to rehearse with the fire several times before going live.
People had a great time and enjoyed sandwiches from Port Of Subs.
This song gained much popularity on TikTok, and Erica Badu retweeted it. You'll see her glance into my recording booth about 2:25 and catch me jamming out to her mix, and she smiles so big!
After the session, we had Jackie sign the guitar we auction at our Concert For Cause, which is December 14th. She signed our wall, and got really excited about drawing a horse.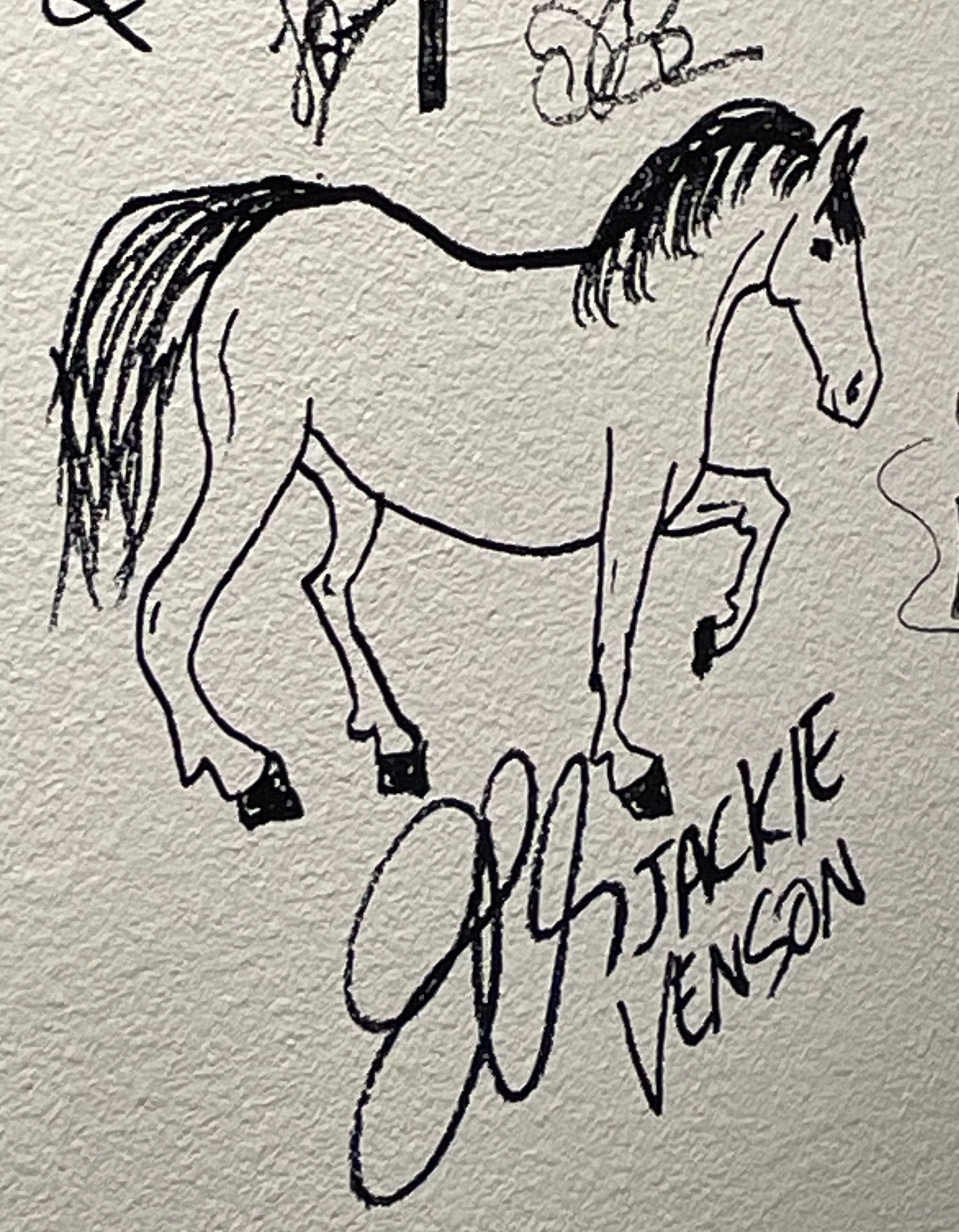 She said she used to always draw horses on her tests, and sometimes missed completing the test because she wasn't done drawing the horse. She didn't much like school, and thought it was a waste of time because she always knew she would be doing this. I could have hung out with her all day, she's so funny and interesting. She's a brilliant guitarist, and you've got to catch her set tomorrow at Alive After 5, free and all-ages at The Grove Plaza!
Here's our events page to learn about ALL THE THINGS
Have questions or comments? Email me.