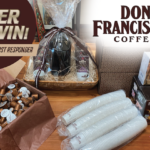 94.9 the River and Don Francisco's Coffee are giving away FOUR gift packages to groups who help ALL of us find our way through the COVID problem.  Each package includes a Nespresso Espresso Maker, sugar, creamer, cups – and over FIVE THOUSAND coffee pods.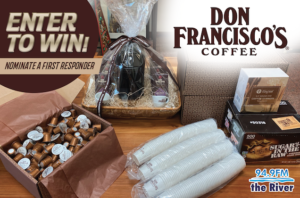 First responders, teachers, health care workers; volunteers, agencies & others. There are lots of people doing great work to keep all of us safe, healthy and active – and to help us get back on our feet when we're not. And 94.9 the River, in partnership with Don Francisco Coffee, wants to reward that good work with a gift package for a qualifying group. Each includes a new Nespresso Inissia Expresso Maker, together with in the neighborhood of FIVE THOUSAND assorted espresso pods, plus sugar, creamer, cups, and. Our thanks. To start, nominate an organization, group, department or other entity you'd like to recognize here, below. Then September 28th, we'll draw four entries at random, each of whom will receive one complete package as described. From Don Francisco Coffee. And Idaho's 94.9, the River.
If you have an idea, nominate that organization here below!  Then September 28th, we'll draw FOUR winning groups at random.
This contest is expired.