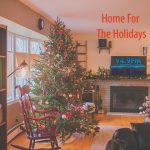 The holidays are a two-way street.  But sometimes, you just can't get there from here.
That's why this season 94.9 the River is bringing "home" and "Christmas" a little closer together.  Maybe we'll fly YOU to see someone close to you who's nowhere near here.
Or.  Maybe you'd rather we fly someone THIS direction to spend the holidays at YOUR place.
Either way, we're inviting you to complete the form below.
Tell us a little about the "who" you'd like to see, and the "where" you'd like to see them.
We'll select one winner based on need, originality, and maybe to what extent it puts a lump in our throat.
And then arrange round trip airfare to or from any major airport in the continental United States.  Just when you thought you COULDN'T.  Hey.  Maybe you can.  With Idaho's 94.9, the River.
This contest is expired.