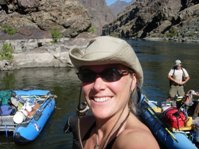 MONDAY to FRIDAY -- 07:00 PM - 11:59 PM
Meet Melissa – our outdoors-loving-patchouli-wearing-river-floating Siren of the night. There's a good chance that next time you're at a River sponsored concert at the Big Easy you'll see Melissa. Don't be afraid to say hi!
Proudly hailing from the north-woods of Wisconsin, Melissa got into radio as the co-host of an adventuresome morning show during college. After earning a graduate degree in counseling, she moved to Idaho and soon landed a job on The River. She now balances her counseling career with the radio, spinning some of her favorite music for the Treasure Valley six nights a week. "What I love most about The River is our involvement with the community in meaningful ways. We make a difference by letting listeners know about human and environmental causes, as well as great music and theater." Despite her love of both jobs, her true passion is still the outdoors and she has taken full advantage of all that Idaho has to offer. She devotes as much of her free time as possible to camping, hiking, kayaking, and other adventures. She has recently discovered fly fishing, which she describes as life's perfect meditation. Time on the water communing with nature – that's what it's all about! Her other passions include spending time at her cabin in Wisconsin – her little slice of heaven – sharing a cold beer and sushi with friends, and being silly with her daughter and dog. The unsuspecting soul might fall prey to her good-natured teasing, so beware if you catch her in the studio or see her out at a remote!