(Acoustic)
THE PERDIDA TOUR
Saturday, February 8, 2020
Knitting Factory Concert House – Boise, ID
Doors – 7:00 p.m.    Show – 8:00 p.m.
Tickets On Sale Friday, December 6th at 10 am!
Tickets are available at the Record Exchange, by calling 866-468-7624

Tickets: $39.50 In Advance, $45 Day of Show
$99.99 – $120 Reserved Balcony Tables
– General Admission, All Ages, Full Bar w/ ID –
Perdida is a Deeply Personal Album that Weaves Introspective Lyrics and Unexpected Instruments Together Across 10 Songs for an Emotional and Musical Journey
The First Single – "Fare Thee Well" – is Available Now
The Full Album Will Be Released on February 7
Tickets for the Band's Upcoming Acoustic Tour Go on Sale December 6
LOS ANGELES – Stone Temple Pilots embark upon a new sonic adventure with PERDIDA, the band's first-ever acoustic album. It features 10 deeply personal songs that weave introspective lyrics together with unexpected instruments to take listeners on an emotional and musical journey through letting go and starting over.
PERDIDA will be available on February 7 on CD (PRICE) and vinyl (PRICE), as well as from digital outlets and streaming services. The first single, "Fare Thee Well," is available now.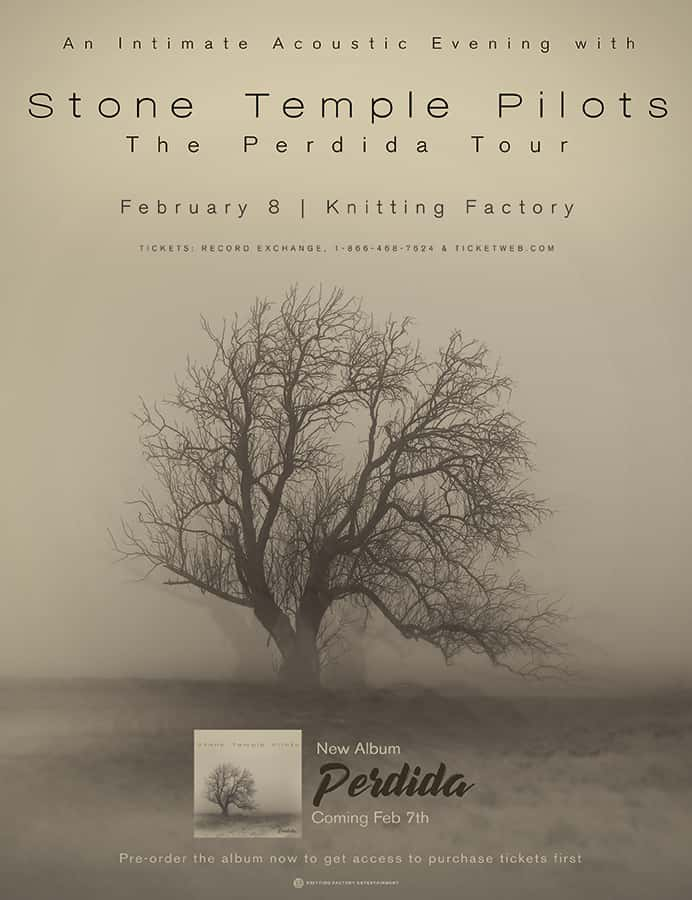 Stone Temple Pilots will also launch a 15-date acoustic tour shortly before the album comes out. At each performance, the band will not only recreate the sound of PERDIDA, but also reimagine other songs from the group's multi-platinum catalog. The tour begins February 5 in Vancouver BC and ends March 1 in Boston.  See tour dates below.
Tickets go on sale to the general public Friday December 6, but fans that pre-order the album beginning Monday December 2 – Thursday December 5 @ www.stp.com will be able to purchase tickets and VIP packages that include Meet & Greet with the band, with a special code, prior to public on-sale.
PERDIDA, the band's eighth studio album, features guitarist Dean DeLeo, bassist Robert DeLeo, drummer Eric Kretz and vocalist Jeff Gutt, who joined Stone Temple Pilots in 2017. The band produced the album and recorded the majority of it earlier this year at Kretz's Bomb Shelter Studio.
Dean says the album's title (Spanish for "loss") foreshadows its somber mood. "You have to live it to write it, and this record is a reflection of where we've been recently."
"Fare Thee Well" – the first single and first track on the album – establishes the wistful tone on PERDIDA right away with its acoustic guitar introduction and opening line: "Fare thee well, so long/I hate to say goodbye to you."
Gutt says the album's emotional honesty focused him lyrically. "I had to let myself be as vulnerable writing the lyrics as Dean and Robert were writing the music."
Robert says PERDIDA is as much a musical journey as it is an emotional one thanks the touches of flute, alto saxophone, vintage keyboards, guitarrón and Marxophone featured throughout the album. "I've always loved how different instruments can accentuate a song in unexpected ways. Working with other musicians on this album was such a joy because it gave us a rare opportunity to hear our songs through someone else's ears."
Kretz says the band is looking forward to not only performing the new songs acoustically, but also pulling songs from previous albums into the setlist. "We'll finally get a chance to play songs from our catalog that we've never played live, or in some cases, haven't played live in more than 20 years."
Robert says the band is looking forward to finally realizing that dream in February 2020. "We're excited because it's not only a chance for us to celebrate our new album in a special way, but also everything that's brought us to this moment."