Idaho Live and TO Entertain U, LLC proudly present: MarchFourth! with guests, The Red Light Variety Show
Thursday, February 27, 2020 at Asana Climbing Gym
21+ ONLY / 6PM Doors Open and the party begins!
Tickets are $40/ea on the DAY OF SHOW
or only $35/ea in advance online until 11:59PM on 2/26.
<<< TICKETS ON SALE NOW >>>
http://bit.do/marchfourth-asana
NO HIDDEN FEES! $35 + tax
Climbing and rentals included with every ticket purchase.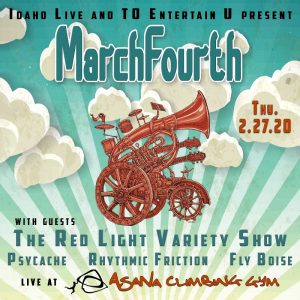 You are invited to participate in an immersive, experiential, event. The evening features an exhilarating live concert and acrobatics by MarchFourth and a circus-inspired, eye-popping exhibition from The Red Light Variety Show that will have people crawling up the walls with anticipation. All guests will be able to enjoy indoor climbing and bouldering while a DJ plays funky, high-energy music from the moment that the doors open at 6PM. Patrons can bring their own climbing shoes and harnesses or utilize the complimentary rentals that are available on a first-come-first-serve basis. Attendees are permitted to climb until they purchase an alcoholic beverage. The walls will be closed shortly before MarchFourth begins. Costumes are highly encouraged. Acquire tickets now for yourself and friends that you desire to share this magical occasion with.
For additional information, find links to MarchFourth and The Red Light Variety Show below:
MARCHFOURTH VIDEOS:
Swiggity: https://youtu.be/OoWdL8hyQCM
Shindig: https://youtu.be/sDpTtBpC8s4
MARCHFOURTH LINKS
Website: http://www.marchfourthband.com/
Facebook: https://www.facebook.com/MarchFourthMarchingBand
Twitter: https://twitter.com/M4MB
Instagram: https://www.instagram.com/m4mb/
Spotify: https://open.spotify.com/artist/4Y1XOfsi9aKcT5Ez2iUVW3
Soundcloud: https://soundcloud.com/marchfourth
MarchFourth is a joy-inducing force of entertainment. The colorful explosion of brassy funk, rock, and jazz is all about the groove. This larger-than-life group of musicians and acrobats tours the country year-round, bringing a spirit of celebration wherever they go. MarchFourth is, in a word, FUN!
Fifteen MarchFourth musicians traveled from Portland, Oregon to New Orleans, Louisiana to record their fourth studio album, MAGIC NUMBER, self-released in September 2016. With Producer Ben Ellman (Galactic) and Engineer/Producer Mikael "Count" Eldridge (DJ Shadow, Tycho, Trombone Shorty) at the helm, the album is full of the captivating grooves and brassy swagger you'd expect from MarchFourth, plus a healthy dose of New Orleans magic, with guest appearance by Trombone Shorty, Stanton Moore (drums), and Matt Perrine (sousaphone). The album was fan-funded through Kickstarter.
"Perfectly merging the artistic spirit of Portland with the musical spectacle of New Orleans, MarchFourth put on one of the most complete shows of any band on any stage. From rocking big band jam tunes, choreography and feats of strength that need to be seen to be believed, MarchFourth entertains on every level every second they are on the stage…or off!" ~Live for Live Music
"From the first note to the last, the sound was pumping and the fun never stopped… It's worth noting that there are serious musicians behind all the fun. It's obvious these guys (and gals) have had lots of training and formal practice. Talented band geeks turned rebels." ~USAToday
"Just when you think you've heard it all, suddenly a band crosses paths with your ears and changes everything… Full of auditory goodness…" ~NYS Music
"Mighty, Explosive, Carnivalesque Brass Band Funk" ~New York Music Daily
MarchFourth is a kaleidoscope of musical and visual energy that inspires unabashed dancing, and an atmosphere of celebration. Dressed in redesigned marching-band-themed costumes, they bring electric bass, 4-piece percussion corps, a 7-part brass section, dancers, acrobatics, stilt-walkers and a very diverse musical repertoire. M4 is far from a "marching band" in any traditional sense but they have been known to swagger down Main Street playing tunes before taking the stage. MarchFourth travels in a crew of about 20, all on one tour bus, bringing their unique brand of party with them all over the world. Their show will take you on a journey from the swamps of Louisiana to the gypsy camps of eastern Europe to the African jungle by way of Brazil, echoing the deepest grooves of American funk, rock, and jazz then boiling it all together in cinematic fashion, real showmanship and dazzling dancing. This genre-busting, in-your-face experience is not to be missed!
THE RED LIGHT VARIETY SHOW
Website: http://redlightvarietyshow.com/
Facebook: https://www.facebook.com/theredlightvarietyshow/
Instagram: https://www.instagram.com/redlightvarietyshow/
Variety show with a revolving cast featuring a collaboration of some of Boise's finest performance artists, burlesque, aerial, ballet, and acrobats.
The Red Light Variety Show was conceived in Boise, Idaho in 2008 and features performance artists who call Boise their home. Red Light creates and produces three, original performance art based variety shows each year that are housed at the Visual Arts Collective in Garden City and sell out every date. Performances can include Burlesque, Boylesque, Aerial Acrobatics, Partner Acrobatics, Modern Dance, Partner Dance, Live Music, Comedy, and so much more… This is a special treat to have the ensemble performing in such a unique space. The troop will be swinging from the ceiling, twirling around poles, and climbing the walls.
Think of someone special that you'd love to experience this occasion with and share this event with them now.