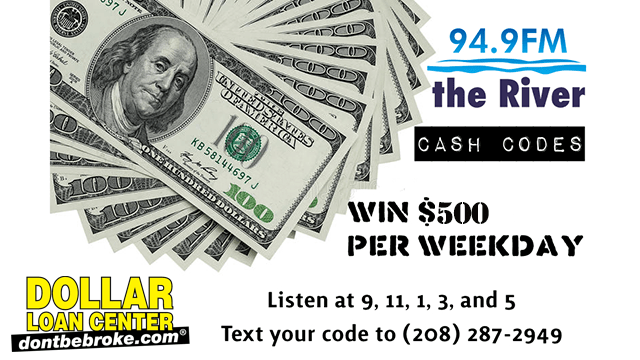 What would you do with an extra $500? Give it to charity?
Invest for retirement?
Buy a couple gallons of gas?
At 94.9 The River, we're giving you a chance to win five hundred dollars every weekday October 9th through November 17th.
Listen for River Cash Codes at 9, 11, 1, 3 and 5.
Text the cash code to our contest line at 287-2949 and you are entered for that day's drawing. 287-2 ninety-four nine.
Listen at 9, 11, 1, 3 and 5.
The River's Cash Codes Contest is presented by Dollar Loan Center, where the first loan is free in 2023 for new customers. Apply for free online at dontbebroke.com or visit our new stores at Emerald and 5th and South Broadway.
Win $500 dollars every weekday with text-to-play cash codes on 94.9 The River.