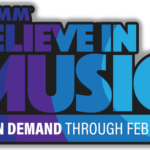 It's hard to believe a year has passed since I was in the warm California sunshine, offering all that the NAMM show has to offer. So much is different this year, and the show is online. If you love to listen to, produce, or play music, this convention is for you.
Pros: You can watch the videos and webinars any time. If 3 of your favorite things are scheduled at the same time, you don't have to miss one. You can watch in the middle of the night if you want to, and watch more than once. There are no lines for events, shows, or restrooms.
Cons: I miss the cacophony of hundreds of instruments being tried out at the same time on an entire floor. Touching and hearing an instrument in person is the best way to buy. There is no replacement for watching the enchantment of hundreds of bubbles popping near you with fog in them. To be in the same room as people like Finneas, Linda Perry, Bob Clearmountain, and Joni Mitchell is irreplaceable. Also, it's so fun to collect all of those free guitar picks! The people-watching in person is as good as it gets.
There were a few less female-specific producer elements for this online version, but I enjoyed hours of product and brand announcements. Believe In Music Week was, and IS, a great event from NAMM.
There were great concerts and movies. The chat offered a chance for people to network. It was an opportunity to check out the new Electro-Voice Mics, new Breedlove and Taylor guitar models, recording software, and film audio with Dolby Atmos sound. A highlight was seeing and hearing what producer Glen Ballard was up to. Check out his Netflix Show, "The Eddy."
I was able to nerd out on a class about improving audio and signal flow. Bands were offered workshops on marketing, making t-shirts, and creating the perfect rider. Teachers were offered workshops on creating the best online classes. There was so much useful education about online streaming, and how to get the best sound. So much info is available for producers working in houses of worship.
Melissa Etheridge and Garth Brooks both won NAMM's "Music For Life Award."
I even won prizes this year!
The sweepstakes tab was loaded with prizes, and easy to enter online. Maple Leaf Strings sent me a t-shirt, cello bow, and this amazing violin outfit as a prize winner! It's a beauty.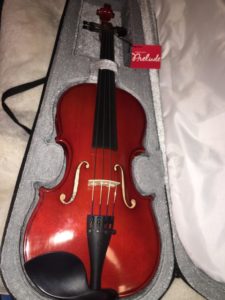 There are 2 parts of the NAMM show for me. My favorite is the She Rocks Awards!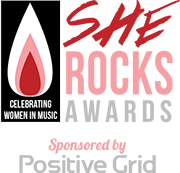 It featured Lizzy Hale, Margaret Cho, The Go Go's, Amy Lee of Evanescence, and a tribute to Nancy Wilson of Heart! This is also online, and you can watch it all HERE!
A year ago I would have never predicted I'd see very little live music, have no studio sessions, and attend no conferences or festivals for the next year. We all hold our breath and cross our fingers for a better summer. I occasionally go into the production room to pretend I'm setting up a session, so I don't forget how to program the board.
If you missed this event, you don't have to. The workshops from NAMM'S Believe in Music Week are available until the end of February, 2021, register HERE!
Have questions or comments? Email me.