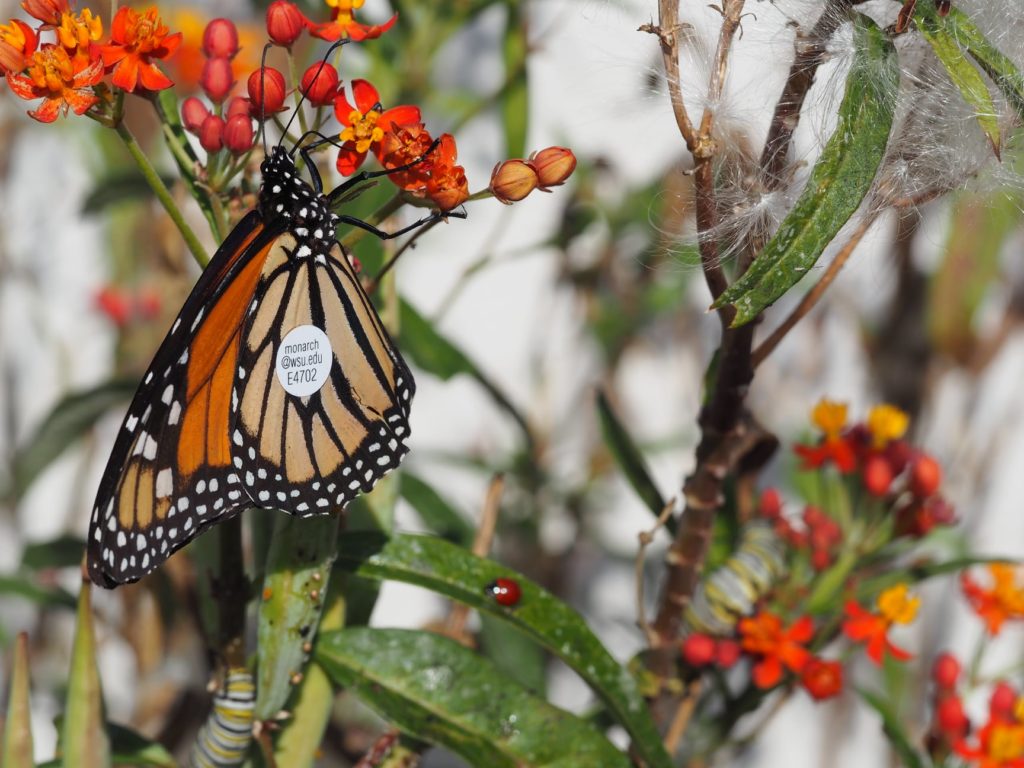 Monarch butterflies are fascinating. I've taken classes about how to catch them and attaching tracking tags. I've only ever caught one for tagging, by the way. Alarms have been sounded about their dwindling numbers. Monarchs in west of the Rockies have been tracked to overwintering grounds along the California coast. Very few showed up this winter, and although there were feelings of despair, it may be the the butterflies are changing their routine.
Here's what the monarch monitoring project for the Pacific Northwest posted on Facebook.
There is some circumstantial evidence for the notion that monarch butterflies this winter are behaving differently in California, than normally seen. That is, more of them seem to be engaged in breeding activities and fewer are overwintering in a non-breeding state at overwintering sites.
We have been running our PNW monarch-tagging program since 2012 and each year we have tagged between 1000 and 6000 monarchs. During 2012-19, a total 122 tagged monarchs were recovered and the majority of these (63%) were found at overwintering sites in California.
In 2020, we tagged nearly 1300 monarchs, and to date, zero have been found at overwintering sites! This is despite the tagged 1300 monarchs representing around 65% of the total number of monarch butterflies seen this year at overwintering sites!
Since 2014, our overall annual average recovery rate for tagged monarchs has been 0.66%. In 2020, this recovery rate was 0.77%. We recovered as many tagged monarchs as we could expect to. The difference was that they were all found during migration instead of at overwintering sites. The number of tagged monarchs we recovered during migration in 2020 was eight times greater than the average for the previous six years.
Most tag recoveries in 2020 were made in inland N CA and in the Bay area. Unlike other years, tagged monarchs apparently did not move coastward to overwintering towns like Santa Cruz and Pacific Grove. I suspect many stayed in the Bay area and joined reproductive populations. In 2019, we obtained photographic evidence of a tagged migrant from Oregon laying eggs on milkweed in a Bay area back yard. In 2020 a male tagged monarch from Oregon was photographed (see below, credit Teresa Chang) feeding on milkweed at Benicia in the Bay area.
These data from our tagging program suggest that in this year at least, many migrating monarchs that were headed to overwintering sites, contributed to a Bay area breeding population that is from a number of reports, quite substantial this winter.
~Debbie