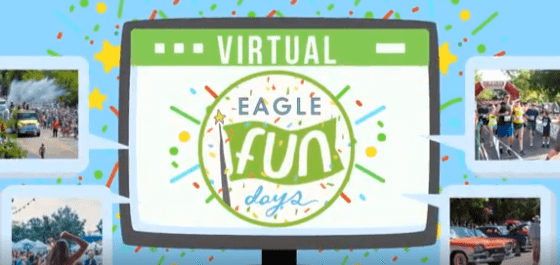 The Fun Run, Custom Car Show, Backyard Float Competition and more. Take part at home and online. Details from the Eagle Parks & Rec Department.
Eagle Fun Days Run & Virtual Race: The race may be completed between July 5th and July 11th. Results will be announced on July 13th. More information about our race and how to participate is available on our website or on the Fun Days Run Facebook page here:
Virtual Custom Car Show: This years car show will be showcased via facebook! Car owners may submit a maximum of 10 photos of (1) vehicle and a description of the vehicle (200 words or less) between 8am on July 5th and 11am July 11th! Cars will be judged and a winner will be announced on July 13th! Participate here:
Backyard Float Competition: Have you ever wanted to build your very own parade float?! Now is your chance! We can't wait to see your backyard Eagle Fun Days Float! Limit one float per home. Submit a maximum of 10 photos of your float starting at 8am on July 5th through 11am on July 11th. There will be 5 categories and one overall winner who best captures this years overall theme: 20/20 Vision, Imagine the Future! A slideshow will be created with all of the submissions for everyone to enjoy our virtual Eagle Fun Days Parade.
#FunDaysFillUp Challenge: Have a bucket? A bath tub? A pool? Fill it up with as many water balloons as you can!!! Challenge your friends by nominating them at the end of your video! Tag us in your TikTok, Instagram, and Facebook videos using #FunDaysFillUp or post a picture in the discussion below! The craziest fill-up will get the Championship Fun Days Fill Up Belt!!!
*Due to COVID-19 and our commitment to the health and safety of our community, we are transitioning to a virtual event this year. We will see you in-person in 2021 for Eagle Fun Days 50th Anniversary!*
Visit our website for more details   
~Debbie