As you all know, as move into the next phase, many restaurant dining rooms are re-opening. Many are still offering to-go. A lot of options, and I have a few posted below. Let me know about your favorite spots so I can share info on the air and here. And hey, the cucumber milking you may have seen go viral on social media is something my family has done for decades. Scroll down for the rest of that story.
Get your fresh movie popcorn Saturday at Eagle Luxe Theatre, or the Ontario location. Drive-thru, $5 for a giant bag, exact change.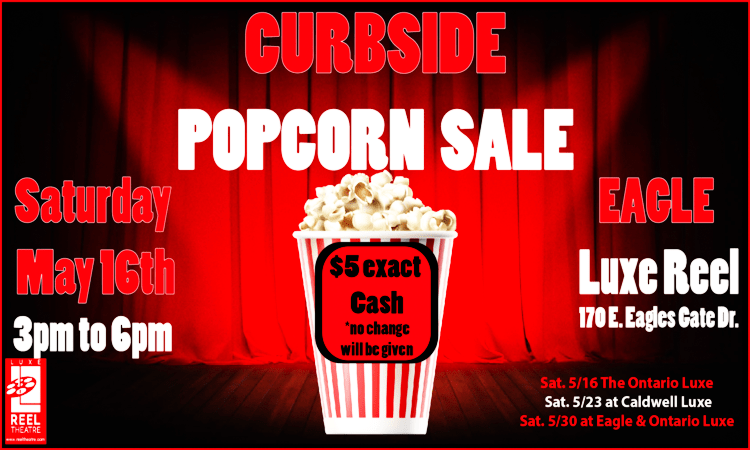 Bardenay has reopened dining service Downtown Boise and in Eagle.
Potter's Tea House in downtown Meridian is reopening Saturday, menu online, "sniff wall" closed for now. Bulk winter teas are on sale, 50% off chocolate, cream maple and the pear cinnamon blend. The "sniff wall" is a board with magnetic tins of teas stuck to it. Take one down, open the lid and smell the tea for a preview of each flavor.
BBQ4LIFE on Vista reopening plans.

Available Saturday, 3 to 6, the Lime and a Coconut food truck will be at 5th and state 11 to 2 today (Wed.), you can order online. Today's special is Pad Thai.
The District Coffee House in Boise is open daily, 8 to 3, with food items added to the menu.
Royal Coffee Company at The Village at Meridian has pastries again. Order to-go or get a curbside delivery.
Horsewood Catering is selling Big Kid Mason Jar Ramen. Doesn't that look good?

 Manfred's next to Woodland Empire Ale Craft is taking phone orders for to-go. 208-343-7202. Menu is a little different than usual, so take a look online.
Deja Brew Laugh a Latte in Meridian has opened the dining room and patio, while offering takeout, too. AND, you can get $50 to spend on food and beverage at Deja Brew for only $25. Click here to purchase (only a few left).
New hours for A'Tavola in the Linen District in Boise, Tuesday through Saturday 8 to 3.
And now, for the cucumber milking, which has taken social media by storm this week. It's not new. My mother-in-law, born and raised in Italy, used this method to remove the bitter flavor from cucumbers.
Video below, after an ad plays.
~Debbie