I will do several posts about local restaurants adapting to survive the COVID-19 restrictions. Please, if you can, order delivery, car-side, pickup, curb side, takeout, drive-thru and/gift cards at least once a day. If you love a place, now is the time to show it.
First, some humor from Matlack's, the new restaurant in the former PreFunk space on Front Street in Boise.
View this post on Instagram
Asiago's is offering takeout and delivery, and more importantly, gift cards that can be purchased online. The gift card money is going directly to employees. I can't love this enough.
Chandlers. They've never done takeout and delivery before, but are giving it a try. Delivering wine, too. A slightly modified menu, but still offering the Del Monaco. Check it out here.
Debi from Black Bear Diner at 7530 W. State St. brought samples to the studio today. Curbside delivery and takeout available. I had the hobo omelet. Well, half of the hobo omelet. The serving portions are generous and delicious. Order online.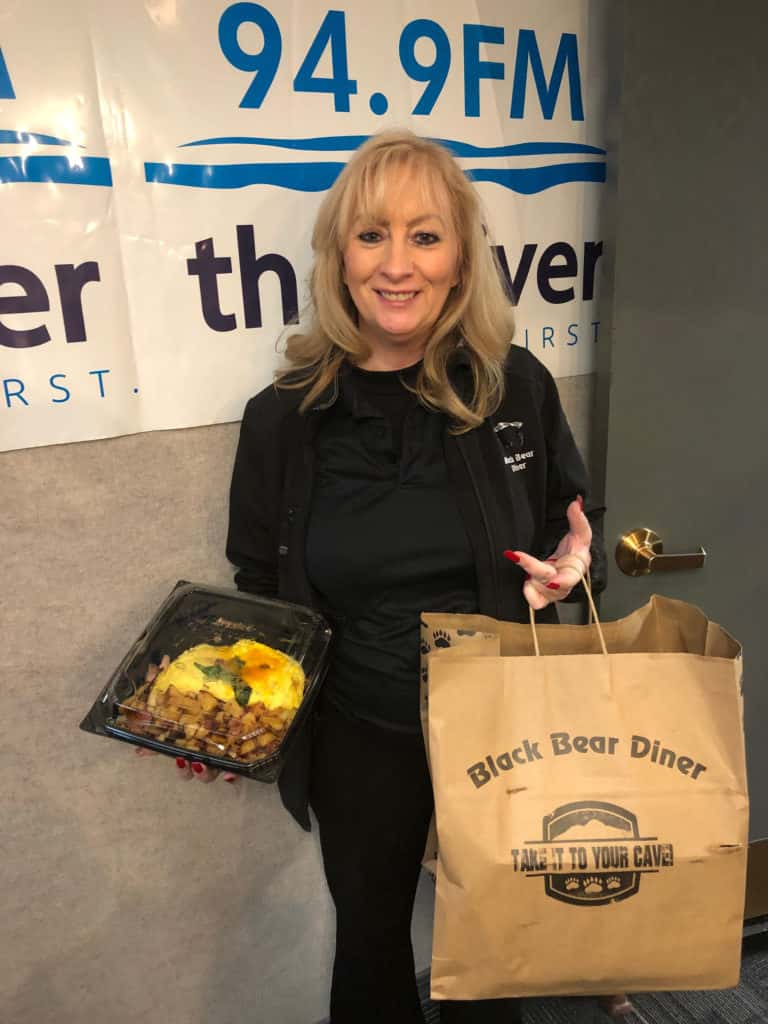 Epi's Basque Restaurant in Meridian offering takeout, and making a limited number of heat-and-eat meals every day. This chicken is drool-worthy.
Here's a super list of just SOME of the offerings. I will post more later. Let me know if you have favorites I can list, or if I need to make a correction  deb@riverboise.com
A Lively Chef Catering, (208) 389-9600, 200 E. 37th St. in Garden City, delivers refrigerated meals that can be reheated. Delivery is to Boise, Meridian, Eagle, Nampa and Kuna.
Addie's Restaurant, (208) 388-1198, 1221 W. Boise Ave., is open with delivery and curbside pickup.
Andrade's Restaurant, (208) 344-1234,4903 W. Overland Rd, Boise is doing takeout and will deliver to your car.  Also serving free lunches to kids or anyone who needs food.
BQ4Life, (208) 639-0568, 930 S. Vista Ave., is now offering curbside service for takeout orders.
Bittercreek Alehouse, (208) 345-1813, is offering a special family-style menu of food to go.
Blaze Pizza, (208) 273-3849, 2206 N. Eagle Rd., is doing pickup and delivery through DoorDash and Postmates.
Blue Toro, (208) 996-3006 in Eagle, is offering delivery through DoorDash and Uber Eats, and to-go meals with curbside service available — including family-style meals.
Boise Fry Company locations are offering takeout and delivery, and selling e-gift cards.
Cafe Ole locations are offering delivery through DoorDash and Uber Eats, and to-go meals with curbside service available.
Capitol Cellars, (208) 344-9463, 110 S. 5th St., has its menu available for curbside takeout or to-go orders.
Edge Brewing, 525 N. Steelhead Way,  and the pub on 10th. Takeout available. Beer delivery with a one cases minimum. (208) 995-2979.
Eureka!, (208) 286-4410, 800 W. Idaho St., offers takeout and delivery through third-party apps. Flatbread Neapolitan Pizzeria locations in Boise and Eagle offer online ordering with takeout and delivery.
Flying Pie Pizzaria locations online ordering for takeout and delivery.
Janjou Pâtisserie, 1754 W. State St., does pickup and to-go orders. No more than three customers are allowed in the store simultaneously.
The Matador, 215 N. 8th St. in downtown Boise, offers online ordering from its entire menu for both takeout and delivery at its website.
Olive Garden, (208) 322-3327, is offering delivery and car-side to-go.
Payette Brewing Co., 733 S. Pioneer St., has launched an online "Buy Your Pal a Pint" program, is selling curbside beer to-go from 4 to 7 p.m. daily in the parking lot and will deliver beer to your home.
Richard's, 500 Capitol Blvd., is now selling takeout food through its online menu.
Sockeye Brewing, 12542 W. Fairview Ave., is now offering beer and food delivery, along with curbside pickup for to-go orders.
St. Lawrence Gridiron, 705 W. Bannock St., does takeout and recently began offering 30 percent off to-go orders.
Sunshine Spice Bakery and Cafe, (208) 991-3920, is offering free delivery via Uber Eats and curbside delivery.
Tango's Subs and Empanadas, 701 N. Orchard St. in Boise, is now taking phone orders for takeout if customers don't want to walk in and order: (208) 322-3090.
Western Collective, 111 W. 33rd St. in Garden City, is now offering curbside pickup and delivery options for beer and other alcoholic beverages. Delivery is free with a four-item minimum.
Woodland Empire Alecraft, 1114 W. Front St., is doing beer delivery with ordering through its website.
Yard House, (208) 288-0990 at The Village at Meridian, is offering 15 percent off takout.
~Debbie