X AMBASSADORS
For months, we had been planning our Concert For Cause event. We loved that X Ambassadors could play, and it was just recently we learned they could do a session for us before the show! We rented some equipment for them, and the guys were very friendly.
Before playing, the band chatted about it they wanted to use their SPD-SX sampler. I had hoped they would, but they were a bit bummed we didn't have subwoofers or a large amp. Since our sessions are usually acoustic, and we share the building with other offices, we keep things scaled down. I would have been fine with shaking the windows of that place on a Saturday!
Sam Harris has done some great things, including on working with Lizzo on 3 tracks from her latest album.
Head's up, not safe for work 🙂 Yah, yah.
Sam worked with Lizzo on, "Cuz I Love You," "Jerome," and "Heaven Help Me." He has also worked recently on a Game of Thrones Soundtrack.
We were honored to have a band of this caliber to make time for a session. Once it was done, I hauled @$$ home and remixed all 3 songs to include on our Concert For Cause Session CD just hours later. I believe it sold this year for $2500, and we sold 3 of them! The first time I handed Tim a CD to auction just for fun, it raised $500. The winning bidders get the music from a CD only for sale at this auction, and they get to attend every session in 2020 in our Blue Moon Listener Lounge! It's an honor to see hours and hours of our hard session work raise thousands of dollars for the Woman's and Children's Alliance.
Final C4C numbers will be coming in during the next day or two, watch our Facebook page River Boise for updates.
Get tickets now for Treefort! The first round of artists has been announced. There may be some you don't know, but I remind myself how I didn't know much about this artist when she played Treefort in 2017.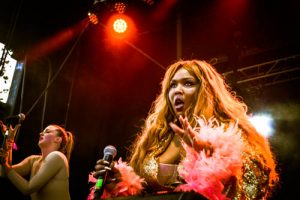 Yas, Queen.
Also, if you're in a band and want to play Treefort, Deadline is December 5th. I took some band photos today for NKE, and hope they make it.
IDAHO HO HO PERFORMANCES COMING SOON!
Have questions or comments? Email me.