Local Food Scene
Tupelo Honey held its grand opening in the old Piper Pub spot at Maine + Marketplace. Extensive menu of southern comfort food and drinks. Sweet potato pancakes this Instagram post.
View this post on Instagram
Bear Island Brewing is ready for the holidays, tapping their Christmas in Your Mouth beer.
The Cactus Bar in Downtown Boise has been honored as one of the top sellers of Pabst Blue Ribbon in the country.
Jamba Juice at McMillan and Eagle Roads is closed. It's being transformed into a bubble tea and smoothie shop, called T-Baar. Coffee and cake, too. More info at BoiseDev.com
BBQ for Life has added breakfast to the menu.
Congratulations to City Peanut Shop. A spot on Vista has been purchased for roasting space and eventually retail. And taste the ginger snap popcorn. I like the "plus hugs" part.

A new restaurant at 17th and State in Boise called Rush Bowls. All about granola, choose your toppings. Smoothies available, too.
The District Coffee House in Boise remodeled the coffee bar and they've added a menu for breakfast and snacks, with gluten-free options.
Thanksgiving Prep
Survey says most people want turkeys 18 pounds or less.
The Thanksgiving meal is available as a snack from the Butterball company. Their premium snack packs have pieces of holiday-seasoned turkey breast, stuffing bites and dried cranberries.
And a special Friendsgiving/Thanksgiving recipe from Taco Bell's executive chef. Rolled chicken taco bisque. Puree the deep-fried tacos, along with garlic, onions and chicken broth, and add heavy cream. Honestly, it looks delicious and I've never med a bisque I didn't like.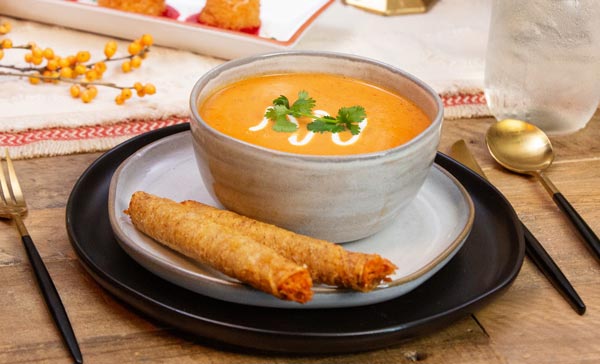 [Taco Bell photo]
Sweet Notes
New flavors for Kit Kat candy bars. Double chocolate, caramel cappuccino. Coconut and birthday cake
Crunchy Caramel Pecan Ghirardelli squares, a flavor exclusive to Target stores.
Mentos has added a candy cane flavor for the holidays. These are already popular for those serious about decorating their gingerbread houses. Just imagine if you poured a diet Coke over the top!
The birthday cake edition of Hostess cupcakes was such a hit, that they've been added to the permanent snack cake line-up. White cake, vanilla filling and frosting with sprinkles.
The Leftovers
Impress your family and friends with your turkey carving implements this year. Get an electric knife that looks like a chainsaw. That'll surprise them. 60 dollars on Amazon, photo at River Mornings on Facebook.
It can be exhausting to get up from the couch to go to the refrigerator to get a snack or drink. That's why the Coosno company is selling a new type of coffee table. It's also a refrigerator. It's round, the top lifts up, and inside is a lazy Susan so you don't have to get up to dig for anything. 500 dollars
The Nutella company is opening a temporary hotel in Napa, California. Open only for four nights. Win your room by making a video showing how Nutella makes your morning special.
The Hidden Valley Ranch company has unveiled their holiday shop. Blankets and pillows with ranch bottle art in the designs. Pajamas for the whole family, and a Christmas stocking filled with 52 ounces of ranch dressing.
A new high-priced gin from South Africa is made with elephant poop. The creators say the dung is dried and sanitized and crumbled to sort out of the piece of fruits, flowers, leaves and seeds leftover from pachyderm intestinal tracts. Those pieces add an "earthy tone" to the flavor profile.
Cheers! Send me foodie tips. deb@riverboise.com, text 208-287-2949 or connect on Facebook, Instagram or Twitter.
~Debbie