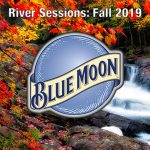 Tim has been so busy procuring Live River Sessions for the Blue Moon Listener Lounge. Here are just a few, and chances are good that more are on the way!
BAILEN – October 8th.

This NYC based trio of siblings are one of the most talked about bands of the year. Great reviews for their new album. They will be playing that night at the Oylmpic. This will be a noon session.
JADE BIRD – October 12th.
If you saw Hozier at The Knit, you know all about Jade. She is a remarkable performer and her debut album has spawned a couple River singles. She's at the Olympic that night. Noon session (tentative time since it is a Saturday)
JP SAXE – October 24th.
This is an artist new to us. He just got signed to Arista Records but he's made a name for himself north of the border and it just now introducing himself to American music fans. He is not playing a show – this will be his only appearance.
CAAMP – November 4th.
These newcomers out of Ohio have one of our favorite current singles. "Peach Fuzz" is super fun folk rock and this trio has a great reputation as a live act. They will be at The Knit that evening. We'll have them for a noon session.
SOAK – November 5th.
This will be this Irish singer songwriter's only appearance in town. We are waiting for confirmation on the time for this one but I have asked for a noon session.
LIl SMOKIES-November 8th
We'll share a bluegrass from the River Studio in this noon session, before they play Olympic later that night.
Have questions or comments? Email me.