How to survive a road trip to The Gorge Ampitheater
Boise is lucky to have dozens of concerts through the summer, but some of the biggest ones don't make it here. A great place to catch your favorite bands, is a road trip to The Gorge!
Why travel to The Gorge to see a show? Watch this!
Enormous : The Gorge Story is hitting film festivals everywhere. I can't wait to see the final product showing the history of this beautiful and unique venue.
It's a long drive, but worth it. With construction, it's about 7 hours this summer from Boise to nearly Quincy, Washington. Your drive will be better than mine, as I haven't had wheels with air conditioning since I was 17.
On this drive to see Brandi Carlile, I borrowed a friend's VW that was for sale. It was water-cooled, as opposed to the air cooled van I've blown engines on 2 different times through the Blue Mountains. Last time, it happened last year as I had full press passes to what turned out to be the LAST Sasquatch Festival. Ever. It turned out to be really stressful, sleeping solo in a Walla Walla UHaul parking lot until they opened the next day.
This time was different. Different concert, not a holiday weekend, and a different vehicle. There's not much to see on this drive, so it's a great opportunity to catch up on playlists of the band you're going to see. There is so much nothing until you get there.
Shows at The Gorge come with an opportunity to buy camping passes. There are various levels of GA and VIP tent and RV parking. Check them all out and see what's best for you. GA camping is cheapest. HAVE YOUR CAMPING PASS IN YOUR HAND WHEN YOU PULL INTO THE CAMPING ENTRANCE. The try to park you extremely close to your neighbor. Last time I couldn't open my driver door until my neighbor had stopped brushing her teeth. They make it so there is no clearance for you and your neighbor to not hit each other's doors if they are open. You put your tent behind your car. The van has a driver's side door, so I tried to park with enough room that I could get my cooler out. There were 4 guards with nothing better to do than argue with me. No other cars were pulling in. I re-parked once, and they tried to move me a second time. I was sweaty and exhausted, said I'm not moving anymore. They left and I started unpacking. 5 minutes later a very puffed up security guy got in my face and asked what my problem was. I actually said, "are you kidding me?" I was looking at acres of open land. He accused me of stealing a free site and blocking the "fire lane" if I spent any time on the side of my vehicle. Later that night I saw fire candles and an actual fire pit in someone's campground. This continues the theme I've experienced there for 5 years now, the rules and experience will depend on who is working there. All the people I saw between entry and parking had huge welcoming smiles on their faces. The Barney Fife type security guy left finally, and I was soothed by Native American singing by another guard waiting for the next car to pull in. I grabbed a cold beverage and focused on the singing.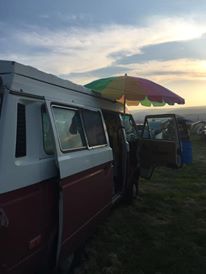 My friends put up their tent and started making us pasta dinner. This crowd was much more calm than the Sasquatch campers I was used to. We got to know a couple of our neighbors, most were very quiet. A few cars down, a group of older women who had way too much wine got louder as the night went on, and one lady couldn't get over how funny she found herself. I heard some people comment on how they hadn't seen so many stars in years. The desert night filled with people bundling up, as the bugs came out to bite us.
The next morning, my friends and I combined breakfast supplies. I brought peach/mango champagne for mimosas. I had some homemade sausage my cousin's wife made for me, she made eggs with it, camp coffee, and some potatoes. People use camp time to visit, day drink, catch up on music, play cards, games, and read. Even though recreational dispensaries are legal in Washington, The Gorge has a policy against these items. I never noticed any enforcement at Sasquatch, but they were driving through and checking on people this time. Bonnaroo has drug dogs and random car searches. This is nothing like that. You can bring your own food and alcohol into your campground, just not into the concert area. There are nearby porta-potties and water to wash your hands with. Showers are available to purchase near the VIP area. There are a couple of small stores close to the venue if you need ice or basic things.
I experimented with my new solar setup. It seemed like The Gorge would be a perfect area to check it out. I studied panels and generators for 2 weeks, it was really overwhelming as there are so many choices.
I  decided on the Goal Zero Yeti 400 Lithium. It's light to carry, and kept a great charge. Someday I hope to upgrade to Lithium 1000. Goal Zero is based in Utah. This means quick shipping, and the customer service is really great! That is important when you're trying to figure out compatibility with power, and an overwhelming choice of adapters.
Research led me to a small size Renogy 100 watt panel.
This is one of the few solar panels I found with a 10 year warranty. It fit perfectly inside the van on my dash. Eventually another panel like this would be perfect for cloudy days. With extra cable length, I ran it out where I could have the Yeti in the shade. It kept tunes playing all day on my Tailgater speaker, charged phones, tablets and never lost any power. I'm going to have it power a recorder and an "on air" sign for my mobile podcast, "She Likes To Go Slow." My next nerd dream for it is to get a 12v slow cooker for camping.
If you camp in the GA area, just know you'll have about a 30 minute walk to the ticket line. That line could take 30-60 minutes to get through with security. Wear good shoes, your feet will thank you. Check the list of what you can bring in, a small bag of snack and empty water bottle will help you save some money. Everything will take longer than you expect, go early.
Once through security, find your seat/friends/cold beverage. A big cold cheap beer will cost close to $14. There is food available to purchase inside the venue. There's a water station so you can refill your plastic bottle. There is only a tiny bit of shade at the top of the hill. Head up there at least once to get a phenomenal photo memory of your concert. This is mine. 17,000 people.

After the show, you'll have that half hour walk back mostly in the dark. VIP campers get to catch a shuttle. If you camp in GA and have friends in VIP, they will not let you visit them. They can visit GA, however. The nights are filled with after-parties, and people slowly sort themselves out and leave the next morning. Check out is at noon.
I headed back and decided I loved this other van that did so much better than what I'd taken up there in the past. I'd decided to buy it once I was back safely in Boise. Fate didn't see it that way, the owner sold it while I was driving it. I learned the news in Pendelton, and was so sad. Back to square one. Something better must be around the corner.
Pack your bags and plan your road trip. Here's the list!
THINGS TO HAVE FOR YOUR ROAD TRIP TO THE GORGE AMPITHEATER!
(for camping)
Patience
Tune-up & oil change
Roadside assistance
Sunscreen
Hydration drinks
Sun glasses
Phone chargers & power banks
Bug Spray
Camp Chairs
Party tunes and games
Camp/cooking gear
Clothes for all weather
Tent stakes (wind there is crazy)
Side note if you're traveling alone, or at night…this drive is really desolate and gas stations can be few and far between.
VENUE LIST
Patience
Take as little in with you as possible, to save you time at security.
Your tickets! It's a long walk back.
Sunscreen
Empty plastic water bottle
Clear gallon bag of snacks
Blanket or low chair with NO pockets to sit on if you didn't buy seats
More info on their site.
You are lucky to have some stellar shows to choose from at The Gorge this summer!
Eric Church. Beck/Cage the Elephant/Spoon. Watershed Festival. Mumford & Sons/Portugal. The Man. The Avett Brothers. Dave Matthews Band. Bon Iver.
For several of these shows, we will have free tickets and sometimes camping you can win!
COMING SOON:

Half Price Friday: Willowcreek Grill & Raw Sushi 6/21 $50 for $25, 9 am sharp at www.riverboise.com Friday.
6/26 HAMISH ANDERSON (HERE FOR ALIVE AFTER 5)
7/19 J.S. ONDARA
7/24 Daniel Rodriguez of Elephant Revival, before his appearance at Sawtooth Valley Gathering! Listen for an interview, performance, and another chance to win free tickets and camping!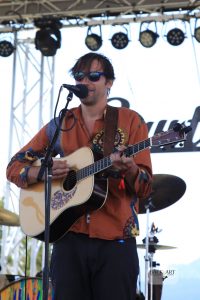 Have questions or comments? Email me.