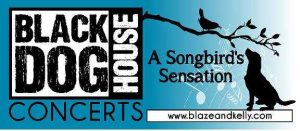 My friends Blaze & Kelly put on a house concert last night. Thanks to Black Dog House Concerts, I was able to hear new upcoming artist Maiah Wynne. I was so tired and thought of not going, but gave her another listen and got right in the car. These house concerts are warm and intimate, including an amazing potluck provided by hosts and ticket purchasers.
I'm gonna put it out there that is is a One To Watch artist. This young singer has a unique tone and songwriting style. I'd love to hear nothing but her voice. She placed her angel wings on the drum set, and began to enchant us. Black Dog Juno made my right foot her pillow for 3 of the songs!
This young Portland artist/Missoula native, was hand picked for a Tiny Desk Concert.
She has appeared at Sundance Film Festival, and South By Southwest. She has been swapping songs with Alex Lifeson, from Rush. This was a great opportunity to see a soon-to-be big artist taking shape. She had a genuine response to the love given from the audience.
Maiah Wynne played several instruments, from guitar to keyboard, ukulele, dulcimer, drum pad, and a tin can instrument. She had a small tambourine on her left foot, and played bass drum with her right. Another thing to love? She uses plastic from out of the ocean, and recycles it for her CD covers. My hope is to soon see Maiah on a huge stage with a band putting her in the spotlight. I hope the industry interaction she goes through to get there doesn't color her sweetness and sincerity. Keep your eye on this one!
Have questions or comments? Email me.