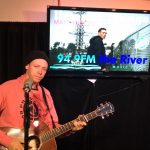 "Is this gonna be live?" "Yes." "So I shouldn't swear?" "Please don't." We both grinned during sound check, as we worked out the details before bringing winners in for the session. We appreciate so much that Matt Mason came to Boise to play in the Blue Moon Listener Lounge! He had just played Spokane, driven here, and then would be off to Lewiston. We all groaned, and he was glad we could feel his pain. At least the roads and weather seem good.
Tim had discovered Matt at a Boulder, CO music convention, where he played for many industry professionals as they enjoyed breakfast. He admitted he was hung over during the performance, which helped him put some extra emotion into it!
Matt Maeson has 2 albums, and a very original beginning. His first show was for a fast food chain when he was 16. His parents had a prison ministry, so his first musical exposure was all faith-based. At 17 he explored other music, like Lincoln Park and AFI. He dropped out, and went on to do music and tour with Gang of Youth. He said it was great because, "they were also of the hill song church world."
Check out Matt's video trilogy. He said the videos were filmed in Buena Vista, Colorado. He said the 14 hour days including hours of him jumping on ice, and having his hand bleed after shattering a window. Matt would love to return for Treefort Music Fest, we will cross our fingers. He added a Record Exchange performance to his day at 3pm. We'd love to have him back.
Listen to podcast below!
Have questions or comments? Email me.