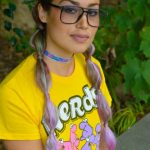 XIE INTERVIEW-BUMBERSHOOT 2018
Music festivals are a great way to hear samples of many different genres. XIE caught my attention, she is a very talented upcoming electronic musician. I feel like she will be doing huge projects within a couple of years, it was great to see her first appearance at Bumbershoot.
I was chatting in the press room with a reporter from Northwest Asian Weekly about Xie's music. The reporter had done a backstage green room interview with her, but the stage noise was so loud it was almost impossible. The media room had no interview rooms, so with this knowledge I invited Xie to chat with me outside.
From organic to electronic, Bumbershoot had a little of everything. This is how many people make music now. There are less bands, and more programmers and beatmakers. The sound is full, and dynamic. It's a powerful backdrop for a powerful message, such as on her song "Just Like Me," about us all being in this world together. This is a collaboration with Virtu, who has worked with BORNS.
Coming soon, an interview with LOVELY THE BAND!