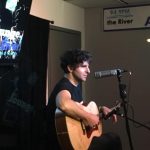 LOW CUT CONNIE
This is a band you may have seen in town before, at places like Neurolux, or the Olympic. They played at Treefort last year, and came back to open for the Social Distortion show.
Adam from the band was kind enough to join us before heading to the Record Exchange for a later performance. Deb's daughter joined Adam on a tune.
He talked about how music started working better for him when he stopped trying so hard. "You have to do it for the love. Don't try, just do."
Low Cut Connie never got signed to a record label, and Adam said they just got a booking agent last year.
The LCC sets were stripped down, they often play with a piano called "Chandra," for reasons Adam said he could not discuss on the radio.
Adam mentions that the group is now working on their 6th album. Great things are happening for the band who made Barack Obama's Spotify playlist last summer!
Have questions or comments? Email me.