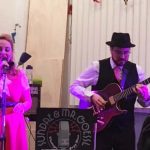 SUNDAE AND MR. GOESSL HOUSE CONCERT
My friends in the music group Blaze and Kelly have started a house concert business, known as "Black Dog House Concerts." This was their first show.
Sundae and Mr. Goessl is a Seattle jazz group. Kate Voss was named as Earshot Magazine's vocalist of the year. She is also an amazing talent on the melodica. Guitarist Jason Goessl blew people away with his skills, very tastefully backing up his wife Kate.
We were so lucky they brought their "When You're Smiling" tour to Boise for such an intimate performance!
COMING SOON
Tyler Childers Live at The Record Exchange 4/18
Have questions or comments? Email me.