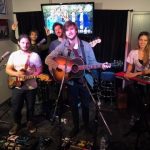 MT. JOY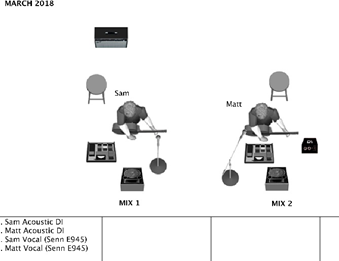 We LOVED having this band in, though their setup was much different than the stage plot sent to me. Maybe a few pages were missing? I pulled in to see road cases piled in the parking lot, and the band explaining they would have 2 keyboards, 2 guitars, a bass, and drum. I grabbed the techs to follow me in right away, we had some changes to do! Digital mixing boards are cool and everything, but it's almost easier to do a huge session from scratch than to modify what we had already entered. We stressed a bit and drank lots of water, ran 30 minutes late but got 95% of what the band had brought in before we ran out of cords.
Mt. Joy is an indie band out of Philadelphia.
This band wouldn't have happened if the singer hadn't dropped out of law school.
They joked about Jackie being the only girl in the band, who gets the whole back seat to herself.
Mt. Joy said one of the biggest challenges on the road was eating right, saying they eat lots of cheese. I heard one of the band members in the hallway saying the only thing he had eaten all day yesterday was cheese. Still, they were in search of our Whole Foods store.
Here's another cool thing about tonight. Dar Williams was in town for a book signing.
What I Found In A Thousand Towns talks about gentrification being displacement. She had a much to say about our current ethos. When asked about whether she'd ever run for office, she said "absolutely not." She would rather talk to mayors and city council members and tell them what a great job they are doing. She said she'd like to put a disco ball in every Statehouse, and use it daily!
Mt. Joy Session and Dar Williams Book Visit
Session Chatter Podcasts
COMING SOON
Lo Moon Live at The Record Exchange 4/13
Tyler Childers Live at The Record Exchange 4/18
Have questions or comments? Email me.