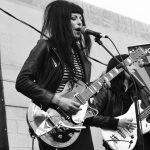 OLIVIA JEAN AT TREEFORT MUSIC FEST
This Treefort artist comes to us from the all-girl goth band The Black Belles. I would say keep your eye on Olivia Jean. I couldn't resist grabbing this shot when I passed her on the sidewalk downtown.
She has connections with Jack White and Third Man Records. Her album is called "Bathtub Love Killings." She said the title is based a serial killer from the 1800s that killed three girls in the bathtub.
It was great to have this Nashville group playing at PreFunk for Treefort in Boise. So many rude photographers were walking in front of me, I had to tap out early on Treefort that night so I could rest up and gather more patience! This was one of 2 shows from Olivia Jean at Treefort.
Olivia Jean said she had a 20 hour drive to Omaha, Nebraska after playing Treefort. We hope she gets away from the snow, and returns to Boise for a full show soon!
COMING SOON
Our Andrew WK session blog and videos from our sister station 100.3 The X will be coming soon!
Sessions from Mt. Joy 4/10
Lo Moon Live at The Record Exchange 4/13
Have questions or comments? Email me.