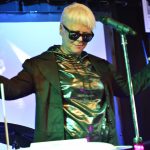 CINDY WILSON AT TREEFORT MUSIC FEST
We are so grateful to The Record Exchange and Dave Eilers for sharing audio for us to remix for these videos. This was a surprise pop-up show for Treefort, and it was a great show!
I heard that before the show, Cindy was worried that no one would show up. It was nearly standing room only, and the place was full of smiles!
Cindy's latest album is called "Change."
It was really fun watching Cindy dance and play the theremin. There is a great movie about this instrument, if you are curious.
Cindy also did a show on the Main Stage at Treefort, she was so much fun!
COMING SOON
Sessions from Mt. Joy 4/10
Lo Moon Live at The Record Exchange 4/13
Have questions or comments? Email me.