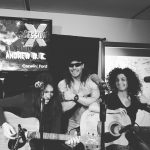 ANDREW WK AT TREEFORT MUSIC FEST
Sharing this session is made possible by our friends and co-workers at our sister station 100.3 The X!
He was friendly and pretty chill. Andrew WK didn't want to play unless we could get a Roland RD700GX keyboard, which someone donated. He loves their reliability, saying that he saw an entire beer poured on one once, and it continued to be playable.
He has fun and positive messages in his party songs, and said we need to get rid of negativity in order to save the world. Andrew WK played The Main Stage at Treefort Music Fest. Much love to The X for letting me share my video and audio on the River page!
COMING SOON
Sessions from Mt. Joy 4/10
Lo Moon Live at The Record Exchange 4/13
Have questions or comments? Email me.