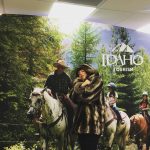 KITTY CRIMES AT TREEFORT MUSIC FEST
Okay, this is somewhat a blog for the ladies. It's true about what they say, Treefort is for everyone!
We had some fun in the press room interviewing Maria Kohler of Kitty Crimes.
For reference, here are some of the videos we talked about!
She is hilarious!
She is super fun, and I stumbled onto this video as well.
Other surprises at Treefort included a podcast with Emma Arnold, and August McLaughlin. August is the host of a podcast called, "Girl Boner."
August has written a book based on her many interviews over the years. It will be available next month. This podcast was really fun and informative. Emma told many brave stories of abuse, and wants to get the word out about abuse recovery. www.speakyoursilence.org. This site lets abuse survivors tell their story in safety, and possibly connects them with free counseling.
The podcast was about so much more than sexuality, they talked explaining sex to your kids, about the difference between consent and enthusiastic consent, and compassion for the pressures experienced by men.
COMING SOON
Tomorrow get to The Record Exchange for a free SURPRISE Treefort in-store at 2pm. That's all we can say!
We will share an ANDREW W.K. Treefort Session with our sister station, 100.3 The X!
Sessions from Mt. Joy
Lo Moon Live at The Record Exchange
Have questions or comments? Email me.