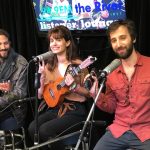 TREEFORT – BEGINNING -LOLA MARSH
This Treefort band arrived a day early, enjoying their trampoline views at their Air BnB and having dinner at Mai Thai downtown. Lola Marsh is from Tel Aviv, and what a great sound to have as part of Treefort!
They used their whistling skills and had a great show Wednesday night at El Korah Shrine. Yael danced around barefoot and had everyone clapping rhythms. When the two main members first met, they loved playing Foo Fighters songs together. The more songs they played, they said everyone in the room just vanished.
The band just did several shows at South By Southwest. The Lola Marsh album is called REMEMBER ROSES. It's available on vinyl, as well as CD.
Here's an in-store session from our Public Radio friends at The Record Exchange. Madeline Kenney brought some great tunes at loops as a free Treefort show!
In the Press Room at Treefort, I overheard stories about people complaining that it's too spread out. I heard that people from L.A. are used to taking an Uber to a certain block and having things all take place in a small area. They are not pleased about things being several blocks apart. Other media folk think it's nicely contained. Treefort seems perfect to me, but from what I saw on a Wednesday, it's growing crazy fast.
Be prepared for crazy wet weather, but also 100+ degrees at El Korah Shrine. These shows are hot yoga. The best part is the women's restroom downstairs, which is like a really cool parlour environment. The bar doesn't take cash, you have to chase the Shriners around in the yellow jackets to buy tokens. A unique thing about El Korah? You get big smiles and Happy Treefort when you're leaving!
We will hopefully share out sister station's video of a Treefort session on Saturday, and also possibly a surprise RX performance!
COMING SOON
Sessions from Mt. Joy
Lo Moon Live at The Record Exchange
Have questions or comments? Email me.
Lola Marsh, Treefort 2018
Session Chatter Podcasts