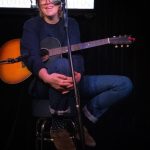 BRETT DENNEN
Brett Dennen loves Boise, especially the skiing. H stopped in to play the Blue Moon Listener Lounge, before playing his show at Egyptian Theater.
He admitted he played a Knitting Factory in a different city on St. Patrick's Day, and that he got really drunk. Speaking of libations, Brett Dennen has a line of wines. He does the artwork for them.
Brett spoke of how amazing it was to hike the Himalayas, and he was humbled in saying how he recognized he was a privileged person in an undeveloped country.
Brett will return to Boise in September, to open the show for Jason Mraz at Idaho Botanical Garden. Brett had called Tim "The Paul Bunyan Type." Tim mentioned how Jason Mraz had referred to him by any name like Tim, calling him "Betty, Barbara," and other odd names. Brett said, "He probably thought he was being funny. I know the feeling." The entire room laughed.
Everyone enjoyed great lunch from Even Stevens, and Brett signed photos, the wall, and cd's. He even offered to sign our TV. Make sure to pick up his newest E.P., "Let's."
COMING SOON
LOLA MARSH TODAY!  Mt. Joy 4/10. .Lo Moon at The Record Exchange (sponsored by the AMAZING Red Lion Riverside), and more!
HappyTreefort!  460 band and counting, 5 days of fun.
Have questions or comments? Email me.