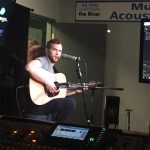 PHILLIP PHILLIPS
We notice over time that few musicians remain humble, that is not the case with Phillip Phillips. He is still as genuine as when we last met him. His new album is called "Collateral."
This was the 2nd day in a row we've had artists rave about Producer Dave Cobb. Phillip said when he was growing up he used to practice playing music with a karaoke machine. He thought it would be funny to hear the tapes now, but is sure that his sister had recorded over them.
My sales manager was checking out the session for a bit while at this time. It's the only reason I could keep it together during this song.
Phillip said his influences were Henrix, SRV, AC/DC, Beatles, and John Butler. His favorite non-profit is that of his sister's. It's a Women's and Children's group, and it is where he met his wife. We treasure every visit with Phillip, and hope he returns soon.
COMING SOON
Brett Dennen Monday, Typhoon, Mt. Joy, Lola Marsh.Lo Moon at The Record Exchange (sponsored by the AMAZING Red Lion Riverside), and more!
We're less than a week away from Treefort! We will have many sessions. 460 bands and counting, 5 days of fun.
Have questions or comments? Email me.