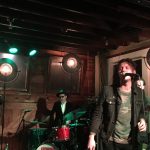 ANDERSON EAST
It's been a couple of years since we've had Anderson East in-studio, and we also recorded his Record Exchange session in the past. Many things have changed for Anderson from his last visit. He has had much recognition, and many TV appearances. We were so lucky he had time for a live session before playing his sold-out show at The Olympic! Our lucky winners heard a pretty rocking performance, while enjoying free lunch from our friends at Even Stevens.
Here is a song Anderson wrote with Avicci.
At The Olymic, the bar was turned into a hot yoga place. My pal Kelly from Mulligans downstairs led me up the stairs, and the floor was bouncing! I somehow navigated to the front to find my friends and met another girl who goes to many concerts by herself. It was great to be surrounded by so many people who loved music.
Anderson's new album is called, "Encore." It was produced by Dave Cobb. Anderson likes that he goes along with him, but says he fights with him when he needs to. Anderson doesn't like to spend time doing demos, sings most of his songs into his phone. Anderson started out in Music Engineering School, where he felt more comfortable with the technical aspect of music. I get it. Thankfully, he didn't stay behind the scenes. During soundcheck, he wanted to split his vocal monitor off so he could use his reverb pedal to get the sound he wanted to hear.
Here is a song AE wrote with Ed Sheeran, and Johnny McDaid of Snow Patrol.
Anderson East felt like he had made it when he sold out The Fillmore, and they made a poster for him. He joked that he was a redneck kid from Athens, Alabama.
COMING SOON
WEDNESDAY-Phillip Phillips
Also, Brett Dennen, Typhoon.Lo Moon at The Record Exchange (sponsored by the AMAZING Red Lion Riverside), and more!
Get yourself all set up for Treefort! We will have SO many sessions next month. 460 band and counting, 5 days of fun. Check out Deb's Treefort Bingo Card, and learn more on her blog!