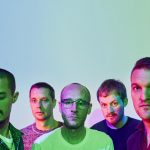 We loved having this band in from Long Beach, California. We had been playing this single for a while.
You might also recognize this song, originally with vocals from Bishop Briggs.
Here is the Bishop Briggs Version. You can really get an idea of her stage energy here. I really don't know how they kept her on a chair, because she usually runs and paces a 40 foot stage!
This band is a must-see live show!
Have questions or comments? Email me.